The MolinaCares Accord Donates $50,000 to Helping Hands in Support of Attala County Food Bank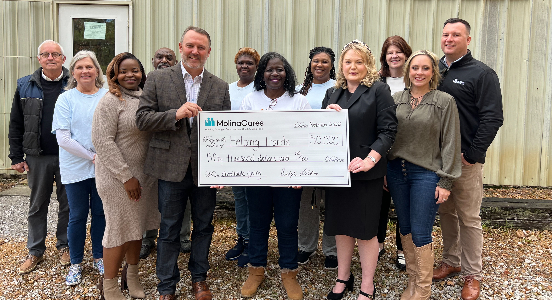 11/16/2023
KOSCIUSKO, Miss., Nov. 16, 2023 -
The MolinaCares Accord
, in collaboration with
Molina Healthcare of Mississippi
, recently presented $50,000 to
Helping Hands Ministries
of Attala County in support of the organization's food bank serving the cities of Ethel, Kosciusko, McAdams, McCool and Sallis.
"The MolinaCares Accord is dedicated to improving the health and well-being of individuals across the state of Mississippi and understands the importance of ensuring families have access to needed resources," said Bridget Galatas, plan president of Molina Healthcare of Mississippi. "We are proud to partner with Helping Hands Ministries and support its efforts to provide nutritious food to Attala County residents."
Funds from the grant will provide food, clothing, and supplies for the Helping Hands Ministries food bank.
"We are grateful to The MolinaCares Accord," said Mary Al Alford, president of Helping Hands Ministries Board of Directors. "It's through generous donations such as this that we can provide assistance to individuals and families in need."
About The MolinaCares Accord
Established by Molina Healthcare, Inc., The MolinaCares Accord oversees a community investment platform created to improve the health and well-being of disadvantaged populations by funding meaningful, measurable, and innovative programs and solutions that improve health, life, and living in local communities. The MolinaCares Accord funds such measures through the Molina Healthcare Charitable Foundation, a 501(c)(3) established in 2020 by Molina Healthcare, Inc.
About Molina Healthcare of Mississippi
Molina Healthcare of Mississippi has been providing government-funded, quality health care since 2018. The Company serves members through Medicaid (Mississippi Coordinated Access Network/MississippiCAN and Children's Health Insurance Plan/CHIP) and Marketplace. Through its locally operated health plans, Molina Healthcare, Inc., a FORTUNE 500 company (currently ranked 125), provides managed healthcare services under the Medicaid and Medicare programs and through the state insurance marketplaces. Molina Healthcare served approximately 5.2 million members as of September 30, 2023, located across 19 states. For more information about Molina Healthcare of Mississippi, visit
MolinaHealthcare.com
.
###