Commitment to Quality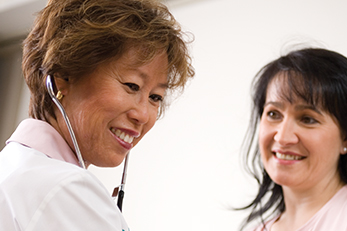 Providing quality health care is our number one priority
Molina Healthcare provides NCQA-accredited health care and services that focus on promoting health, wellness and improved patient outcomes. We maintain our quality care by regularly monitoring our Molina Healthcare network.
Commitment to Quality
Molina Healthcare continues to be among the national leaders in Medicaid health plan quality accreditation. Our goal is for all Molina Medicaid health plans to become accredited by the National Committee for Quality Assurance (NCQA), an independent, not-for profit organization dedicated to improving the quality of health care. Currently, 13 of our Medicaid health plans are NCQA accredited including California, Florida, Illinois, Massachusetts, Michigan, Mississippi, Ohio, South Carolina, Texas, Utah, Virginia, Washington and Wisconsin. Also, Molina's 24-hour Nurse Advice Line is accredited by Utilization Review Accreditation Commission (URAC), an independent, nonprofit organization that promotes quality health care through accreditation, education and measurement programs. Molina also pursues Multicultural Healthcare Distinction through NCQA to highlight our focus on improving quality of care and addressing the diverse cultural and linguistic needs for our members. Molina also voluntarily pursues Long-Term Services and Supports Distinction through NCQA to demonstrate our commitment to quality.
Quality Improvement Program
Our Quality Improvement Program is designed to improve quality of care, member safety and quality of service. We address the diverse cultural and linguistic needs of our membership and coordinate care for our members with complex health needs.
As part of our commitment, we look at reports from groups that check safety in hospitals, skilled nursing and surgery centers to keep track of member complaints about safety problems. We aim to help patients make better health care choices and keep their families safe.
Consumer Assessment of Healthcare Providers and Systems (CAHPS®)
The CAHPS® survey asks individuals and families about the health care they are receiving from Molina Healthcare. The survey informs Molina as to whether members are happy with their care and their Molina doctors and where the organization can improve.
Healthcare Effectiveness Data and Information Set (HEDIS®)
Molina Healthcare uses HEDIS® each year as a way to measure the organization's quality of care - both clinical and non-clinical - and services. Maintained by the NCQA, HEDIS® also shows where plans can improve. Molina's goal is to be better than 75 percent of other Medicaid health plans in the nation.