Molina in the Community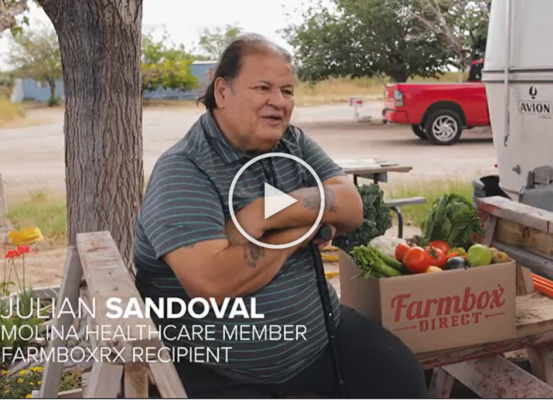 Recent Events
02/25/2014
In an effort to help those in need and provide information about Michigan's Health Insurance Marketplace, Molina Healthcare of Michigan gave away 250 reusable bags filled with groceries at the Glory Supermarket in Oak Park. The event was free and open to the public and bags were distributed on a first-come, first-serve basis. Some of the items included were ground turkey, whole wheat pasta, tomato sauce, a three pound bag of onions and dinner rolls.
Employees from Molina Healthcare were joined by State Senator Vincent Gregory and Oak Park Mayor Marian McClellan of who helped distribute the bags of food to the first 250 families who attended the event.
"We were happy to host this event as it supports Molina Healthcare's ongoing mission of giving back to the community and serving those in need," said Stephen Harris, President of Molina Healthcare of Michigan. "We also thank Senator Gregory and Mayor McClellan for taking the time to join us."
Molina Healthcare representatives also distributed information and answered questions about Michigan's Health Insurance Marketplace. Molina Healthcare is committed to making health care accessible and affordable to those who are low-income or uninsured. Through the health insurance marketplace, individuals are able to purchase insurance for a low cost and many may even qualify for federal subsidies to help pay for their monthly premiums. The deadline to sign up this year is March 31.
"I was pleased to be able to help feed local families and I was glad to see so many people come out today to take advantage of this great event," said Senator Vincent Gregory (D-Southfield). "I appreciate Molina's commitment to our community, both in offering free groceries to those in need and in making sure low income and uninsured residents understand their health care options."
Photo caption: Oak Park resident, Darrel Vance (left), receives a free bag of groceries from Molina Healthcare community outreach coordinator Darrien Howze.
​
01/27/2014
Molina Healthcare recently held its third annual Community Champions Facebook Contest. To kick off t...
10/28/2013
​Molina Healthcare of Michigan, in partnership with Perfecting Community Development Corporation, re...
09/05/2013
Molina Healthcare of Michigan recently celebrated six community heroes at its seventh annual Communi...