Molina Healthcare Monitoring Coronavirus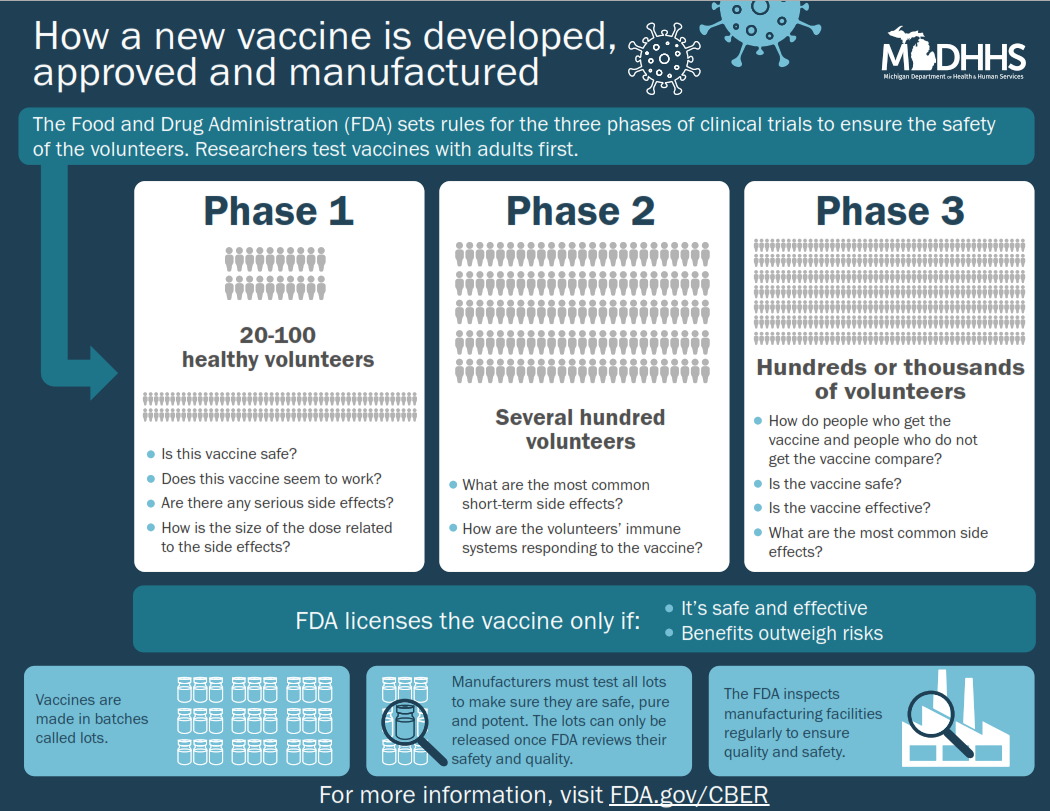 FEMA/State of Michigan Ford Field COVID-19 Vaccine Clinic
Registration is now open for theFEMA/State of Michigan Ford Field COVID-19 Vaccine Clinic. There are three options to register for a vaccine:
Text "EndCOVID" to 75049

Residents who don't have access to the internet or need assistance, please call the MDHHS COVID-19 Hotline at 888-535-6136 (press 1). The hotline is available Monday-Friday from 8 a.m. to 5 p.m., and Saturday-Sunday, 8 a.m. to 1 p.m.
After completing the registration process, you will receive an invitation by "voice" or "text" when it's your turn to schedule the appointment. Vaccine appointments will be scheduled a few days before the actual appointment. Please note, you will be called in the order of vaccine eligibility and the call center WILL have long wait times. Please only call if you cannot use the web or text options.
COVID-19 Vaccine Information
Stay up to date on how the Michigan Department of Health and Human Service is helping to stop the spread of COVID-19.
Discover resources to help you stay healthy:
MDHHS COVID-19 Vaccine Resources
MDHHS Vaccine Frequently Asked Questions
MDHHS Vaccine Prioritization Guidance
COVID-19 Resources and Information
Stay Informed
The state of Michigan is hosting a series of virtual town halls about the COVID-19 vaccine through Facebook Live on the MDHHS Facebook page. Residents will have the opportunity to hear about the safety and importance of the COVID-19 vaccine.
To check the schedule and view past town halls click here.
Need to Schedule a COVID-19 Vaccine Appointment?
Find a COVID-19 vaccine location near you! Click here to use the CDC's VaccineFinder tool.
Lean on Molina
During this unique and challenging time Molina Healthcare continues to prioritize the wellbeing and safety of our members, community partners, providers and staff. We are striving to reduce barriers to care during the pandemic and respond to the emerging needs in our community. Molina Healthcare is monitoring COVID-19 developments on a daily basis, to help keep our members safe.
Molina COVID-19 Vaccine Member FAQ
What to Expect after Getting the COVID-19 Vaccine
Be Aware of COVID-19 Vaccine Scams
Michigan Attorney General warns to be aware of fake COVID-19 vaccines, treatments, test kits, and clinical trial offers.
A few important things to remember:
The COVID-19 vaccine is no cost to you. If you are asked to pay, it is a scam.

You cannot

pay to get your name on a list to get the vaccine.

Do not

give out personal information if someone you do not know calls, texts, or emails you about a COVID-19 Vaccine.

Do not

respond to text, email, or social media posts about clinical trials that promise to give you money for participating. Unsolicited offers are a scam.

Always

consult your Primary Care Physician or local Health Department to obtain COVID-19 Vaccine and treatment.
To report a scam or file a complaint, contact The Michigan Department of the Attorney General:
Consumer Protection
P.O. Box 30213
Lansing, MI 48909
517-335-7599
Fax: 517-241-3771
Toll free: 877-765-8388
Or Submit: Online complaint form
Already Received your COVID-19 Vaccine?
Your safety is top priority, that is why the CDC has developed a new tool, v-safe to help monitor your health after the vaccine. V-safe is a new smartphone-based tool that uses text messaging and web surveys to provide personalized health check-ins after you receive a COVID-19 vaccine. Through V-Safe you can quickly tell the CDC if you have any side effects after getting the COVID-19 vaccine. Depending on your answers, someone from the CDC may call to check on you and get more information. V-safe will also remind you to get your second COVID-19 vaccine dose if you need one.
Note: vaccine appointments cannot be scheduled through v-safe.
Looking for COVID-19 resources in Spanish? ¿Busca recursos sobre el COVID-19 en español?
The National Institutes of Health (NIH)'s new Spanish COVID-19 site features reliable health information on testing, treatments, vaccines, and clinical trials:
En el nuevo sitio sobre el COVID-19 de los National Institutes of Health (NIH) en español, encontrará información de salud confiable sobre pruebas, tratamientos, vacunas y ensayos clínicos: