Molina Healthcare Monitoring Coronavirus
Over the counter COVID-19 home tests
Beginning April 1, 2022 Molina Healthcare will reimburse for over-the-counter (OTC) COVID-19 home tests that meet the requirements listed below.
Steps for purchasing a covered COVID-19 home test:
Purchase an FDA approved or Emergency Use Authorized rapid antigen test from a pharmacy, store or online retailer. The "FDA approved or FDA Emergency Use Authorized rapid antigen test" must be indicated on the packaging.

Keep your test kit box and receipt as they both have important information you will have to reference when filing your claim.
*Please note:
No prior authorization, prescription or provider direction is needed for these covered home COVID tests.

Tests must be purchased on or after April 1, 2022

Reimbursement is limited to 8 individual tests per member for personal use in a 30-day (or one month) period. Note, sometimes tests come in a pack of two. Each individual test counts towards your total limit of 8

COVID tests for employment or school testing purposes are not covered
Steps for reimbursement:
Qualifying COVID-19 home test costs can be reimbursed to Molina members in three ways:
Make a digital claim through the Caremark mobile app

Make a digital claim through a registered profile on Caremark.com

Mail in your claim by using our At Home

COVID Kit Reimbursement Claim Form

Some of the questions marked required on our standard form do not apply to over-the-counter home test kits for COVID-19. You do not need a prescriber or a prescription number for your over the counter (OTC) test.
*Please note:
With your claim you will need to include a clear image of your receipt that shows: the date your test was purchased, the brand of your test kit, the full number under the test package barcode.

You must be enrolled with Molina to participate

Reimbursement is not guaranteed if all steps and conditions are not satisfied

Keep a copy of all documents submitted for your records
Frequently Asked Questions:
Q: How many tests can I be reimbursed for?
A: You may be reimbursed for over-the-counter COVID-19 rapid tests as necessary, up to 8 COVID-19 rapid tests per member, per rolling 30 day period (or per month)
Q: What if a kit has multiple tests?
A: Some kits may have multiple tests, and each individual test counts towards the 8 test per person limit.
Q: Is any kind of test eligible for reimbursement?
A: The kit must have FDA approval or FDA Emergency Use Authorization (EUA) for detecting COVID-19. The over-the-counter test will indicate this on the front or the back of the packaging.
Q: How long will it take to be reimbursed?
A: Allow up to 30 days from the time you submit your information for claims processing.
Q: Which COVID-19 Tests are FDA approved?
A: You can find a listing of all FDA approved COVID-19 test kits by clicking here.
Q: I am testing negative but still feel ill
A: See your doctor for further guidance.
Need to Schedule a COVID-19 Vaccine Appointment?
Find a COVID-19 vaccine location near you! Click here to use the CDC's VaccineFinder tool.
Did you know? The CDC recommends the COVID-19 vaccine to people 6 months and older.
Click here to find a vaccination location near you.
You may be eligible for a $100 gift card for getting your COVID-19 Vaccine. Click here to learn more.
Looking for a COVID-19 Vaccine in Detroit?
The City of Detroit is working hard to make sure the vaccine is accessible to you, making an appointment is easy!
For more vaccine information or to schedule an appointment, contact:

1. COVID-19 Hotline: 313-876-4000
2. Nurses Hotline at the City of Detroit Health Department: 313-876-4000
COVID-19 Vaccine Myths Busted!
Having accurate COVID-19 vaccine information is important. There are many myths and rumors floating around, and it can be difficult to know which sources of information you can trust.
Click the links below to learn about several common COVID-19 vaccination myths and facts stated by the CDC.
COVID-19 Vaccine Myths Busted-English
COVID-19 Vaccine Myths Busted-Spanish
COVID-19 Vaccine Myths Busted-Arabic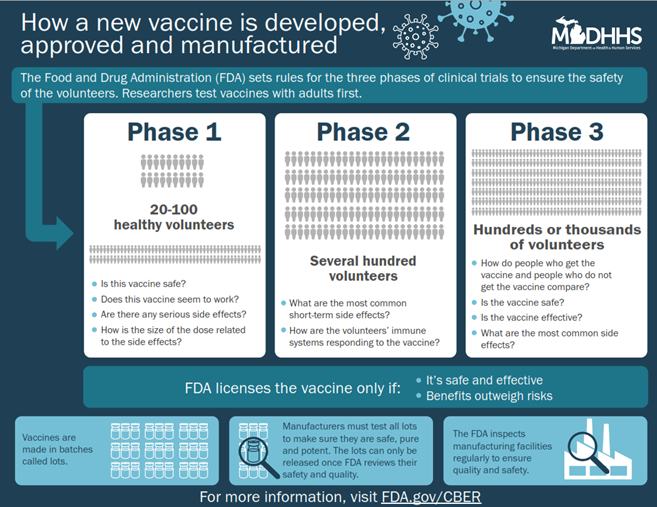 COVID-19 Vaccine Information
Stay up to date on how the Michigan Department of Health and Human Service is helping to stop the spread of COVID-19.
Discover resources to help you stay healthy:
MDHHS COVID-19 Vaccine Resources
MDHHS Vaccine Frequently Asked Questions
MDHHS Vaccine Prioritization Guidance
COVID-19 Resources and Information
Stay Informed
The state of Michigan is hosting a series of virtual town halls about the COVID-19 vaccine through Facebook Live on the MDHHS Facebook page. Residents will have the opportunity to hear about the safety and importance of the COVID-19 vaccine.
To check the schedule and view past town halls click here.
Recent Changes to Contact Information?
Any changes in phone number, email, or address should be reported to the Michigan Department of Health and Human Services (MDHHS). You can do this by going to the MIBridges website at www.michigan.gov/mibridges. If you do not have an account, you will need to create an account by selecting "Register". Once in your account, when reporting changes, please make sure you do so in both the profile section and the Report Changes area. The Report Changes area is what the local office will use to update the address for your case.
Lean on Molina
During this unique and challenging time Molina Healthcare continues to prioritize the wellbeing and safety of our members, community partners, providers and staff. We are striving to reduce barriers to care during the pandemic and respond to the emerging needs in our community. Molina Healthcare is monitoring COVID-19 developments on a daily basis, to help keep our members safe.
Molina COVID-19 Vaccine Member FAQ
What to Expect after Getting the COVID-19 Vaccine
Be Aware of COVID-19 Vaccine Scams
Michigan Attorney General warns to be aware of fake COVID-19 vaccines, treatments, test kits, and clinical trial offers.
A few important things to remember:
The COVID-19 vaccine is no cost to you. If you are asked to pay, it is a scam.

You cannot

pay to get your name on a list to get the vaccine.

Do not

give out personal information if someone you do not know calls, texts, or emails you about a COVID-19 Vaccine.

Do not

respond to text, email, or social media posts about clinical trials that promise to give you money for participating. Unsolicited offers are a scam.

Always

consult your Primary Care Physician or local Health Department to obtain COVID-19 Vaccine and treatment.
To report a scam or file a complaint, contact The Michigan Department of the Attorney General:
Consumer Protection
P.O. Box 30213
Lansing, MI 48909
517-335-7599
Fax: 517-241-3771
Toll free: 877-765-8388
Or Submit: Online complaint form
Already Received your COVID-19 Vaccine?
Your safety is top priority, that is why the CDC has developed a new tool, v-safe to help monitor your health after the vaccine. V-safe is a new smartphone-based tool that uses text messaging and web surveys to provide personalized health check-ins after you receive a COVID-19 vaccine. Through V-Safe you can quickly tell the CDC if you have any side effects after getting the COVID-19 vaccine. Depending on your answers, someone from the CDC may call to check on you and get more information. V-safe will also remind you to get your second COVID-19 vaccine dose if you need one.
Note: vaccine appointments cannot be scheduled through v-safe.
Looking for COVID-19 resources in Spanish? ¿Busca recursos sobre el COVID-19 en español?
The National Institutes of Health (NIH)'s new Spanish COVID-19 site features reliable health information on testing, treatments, vaccines, and clinical trials:
En el nuevo sitio sobre el COVID-19 de los National Institutes of Health (NIH) en español, encontrará información de salud confiable sobre pruebas, tratamientos, vacunas y ensayos clínicos:
Looking for COVID-19 Vaccination Information in Arabic?
Check out this video from Michigan Medicine.
Dr. Layla Mohammed, C.S. Mott Children's Hospital, discusses questions surrounding the COVID-19 Vaccinations.