HMP Incentive and Cost Sharing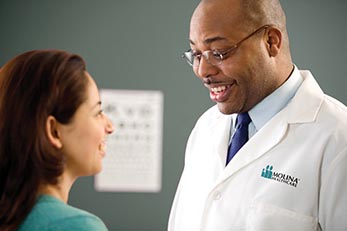 Attention: Healthy Michigan Plan Enrollees
Did you know you could be eligible for a reduction in your health savings contribution? Visit your primary care provider (PCP) within 120 days of enrolling with Molina and complete your Health Risk Assessment (HRA). Your PCP must complete the HRA form with you. Return your HRA to Molina Healthcare of Michigan. Once we receive your HRA form, we will determine if you qualify for a reduction in the amounts owed to the MI Health Account. Visit your PCP at least 2 times per year to discuss any current illnesses and chronic conditions. You should complete your HRA within 120 days of enrollment and annually.
Cost Sharing: Some Members who are on the Healthy Michigan Plan will receive a bill for 'cost sharing'. Whether or not you pay cost sharing is dependent on your household income and the information you share with your case worker. If you owe any cost sharing, a bill will be sent to you from Michigan Enrolls. Once you receive this notice, you will have to send a monthly payment in the requested amount in order to receive the incentive. Make timely payments to your MI Health account. Even if you have an outstanding amount, you will not lose your healthcare coverage.
Not all Members will receive a bill. If you do, you may contact Michigan Enrolls to answer any questions you may have. Please call our Member Services department at (888) 898-7969, Monday – Friday, 8 a.m. – 5 p.m. ​ ​​​​