Stay Informed About Coronavirus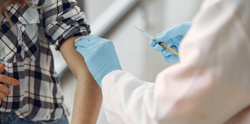 Protecting the safety of our Members is our top priority. We understand your health concerns about COVID-19.
Is the COVID-19 vaccine safe?
According to the CDC the approved vaccines are safe and effective. Click here and view videos below to learn more.
When and where can I get the vaccine?
Molina Healthcare encourages everyone 5 years and older to get the vaccine. Below is a list of sites offering vaccination in your county of residence. Visit the California My Turn website or call to find out where to get the vaccine.
Click here to learn about the COVID-19 booster vaccine.
What can I do to help?
Together we can end the pandemic and get back to doing the things we love. Click here to learn how you can help others to get vaccinated.
After getting the vaccine do I still need to protect myself?
Until there is broad immunization, we urge that you protect yourself and others from the virus by taking the following proven steps to prevent the spread of COVID-19.
Wear a mask in public places
Maintain physical distancing in public places
Wash your hands often
Learn more about COVID-19
What is COVID-19?
COVID-19 is a virus that causes breathing problems in people.
What is the difference between Influenza (flu) and COVID-19?
Click here
learn to more.
What are the symptoms of COVID-19?
People with COVID-19 have reported a wide range of symptoms. They include fever or chills, cough, shortness of breath, difficulty breathing, fatigue, muscle or body aches, headache, loss of taste or smell, sore throat, congestion or runny nose, nausea or vomiting and diarrhea.
Omicron Variant: What you need to know
Click here to learn more.
Where can I get tested for COVID-19?
Find a testing location here. Order free at home COVID tests here.
Coronavirus (COVID-19), COVID-19 vaccine, Pregnancy and Breastfeeding
Click here to learn more.
What Parents Should Know About Vaccines for Children and Teens
Click here to learn more.
How to talk to your children about COVID-19 vaccines
Click here to learn more.
COVID-19 Vaccines and Allergic Reactions
Click here to learn more.
Who can I talk with to learn more?
Molina Coronavirus Chatbot
Click on the robot icon at the top of the screen for help with specific Coronavirus questions.
Nurse Advice Line
You can also call our 24-hour nurse line at (888) 275-8750 (TTY 711) for advice. Open seven days a week.