Behavioral Health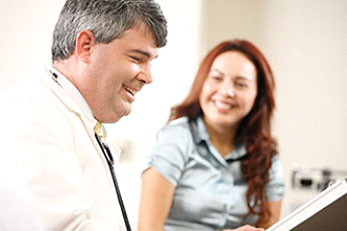 (Mental health and substance use disorder treatment services)
Molina Healthcare covers outpatient and inpatient behavioral health treatment services with licensed mental health and substance use disorder specialists.
You may self-refer for an initial evaluation and outpatient behavioral health services or visit your Primary Care Provider (PCP). Your PCP may treat some behavioral health conditions such as depression or excessive alcohol use.
If you are suffering from overuse of opioids, Molina offers online treatment and support (online, 24/7) through Bright Heart Health. Treatment involves medication, counseling, and behavioral health therapies, at no cost to you. Click here to learn more.
Crisis services are available for members having a mental health emergency. Learn more.
Mental health treatment services may include:
Initial evaluation and specialty follow-up evaluations as needed
Individual, group and/or family treatment services
Other Outpatient services such as:

Medication management/monitoring
Peer support
Psychological assessment
Wraparound with Intensive Services (WISe)*
Program of Assertive Community Treatment (PACT)

Day Support (typically provided in community mental health agencies, clubhouses or community centers. Intensive rehabilitative program which provides a range of integrated and varied life skills training).
Crisis stabilization in outpatient or inpatient settings
Mental health intensive residential treatment
Acute psychiatric inpatient admissions to community hospitals, free standing behavioral health facilities or Evaluation and Treatment (E&T) facilities
Substance use disorder treatment services may include:
Initial evaluation and specialty follow-up evaluation as needed
Individual, group and/or family treatment services
Other outpatient services such as: peer support, case management
Intensive outpatient programs (IOP)
Opiate use disorder treatment program services that includes medications and/or therapy services
Withdrawal management (detoxification)
Substance use disorder intensive residential treatment, long term residential treatment and recovery house residential treatment
*Click
here
for more information on WISe services.
Note: As of January 1, 2018, the following are covered:
Annual depression screening for youth ages twelve (12) to eighteen (18), and up to age twenty (20) per EPSDT requirements
Depression screening for mothers/caregivers of children up to six months old
To see a detailed list of covered behavioral health services click here and search for "mental health services" and "drug and alcohol treatment"
How to find a behavioral health provider
Find a behavioral health provider in your area by clicking here.
You can also go to our Find a Provider page and follow these easy steps:
Select your city or enter zip code
"Distance Within" - Select miles of how far you want to travel
"Coverage" - select "Apple Health Medicaid"
"Provider Type" - select "Behavioral Health" or "Behavioral Health-Pediatric"
Click "Search"
How do members get care?
Call Member Services if you need help getting behavioral health services. We can help you get the care you need.
How to access HCA's "Family Initiated Treatment" pages?
Family initiated treatment (FIT) provides families and behavioral health providers a way to access services needed for behavioral health youth treatment. The behavioral health provider page now includes information on eligibility, trainings, and notifications.
To learn more:
Resources

Ombuds

If you need help finding mental health services or if you feel that your rights have been violated, please call your regional behavioral health Ombuds. An Ombuds is a person who is an available option to provide free and confidential assistance with resolving concerns related to your behavioral health services (mental health or substance use). They can help if you have a behavioral health grievance, appeal, or fair hearing to resolve your concerns. The Ombuds is independent of your health plan. It is provided by a person or a person whose family member has had behavior health services. Ombuds know the services well and can help people resolve problems.

Use the phone numbers below to contact an Ombuds in your area:
Region
Counties
Ombuds
Great Rivers
Cowlitz, Grays Harbor, Lewis, Pacific, Wahkiakum

(800) 803-8833

or

(360) 561-2257

N/A
N/A
Greater Columbia
Asotin, Benton, Columbia, Franklin, Garfield, Kittitas, Wall Walla, Whitman, Yakima

(888) 544-9986

or

(509) 808-9790

N/A
N/A
King
King

(866) 427-4747

or

(206) 265-1399

N/A
N/A
North Central
Chelan, Douglas, Grant, Okanogan

(509) 389-4485

or

(800) 852-2923

N/A
N/A
North Sound
Island, San Juan, Skagit, Snohomish, Whatcom

(800) 584-3578

or

(360) 528-1799

N/A
N/A
Pierce
Pierce

(866) 427-4747

or

(253) 304-7355

N/A
N/A
Salish
Clallam, Jefferson, Kitsap

(888) 910-0416

or

(360) 481-6561

N/A
N/A
Spokane
Adams, Ferry, Lincoln, Pend Oreille, Spokane, Stevens

(877) 266-1818

or

(509) 655-2839

N/A
N/A
Southwest
Clark, Klickitat, Skamania

(800) 626-8137

or

(509) 434-4951

N/A
N/A
Thurston-Mason
Mason, Thurston

(800) 270-0041

or

(360) 489-7505

N/A
N/A
Contact Us
Info@OBHAdvocacy.org
Michelle Tinkler, Director

(800) 366-3103

N/A
Help Lines
Laced and Lethal - King County's fentanyl overdose prevention campaign for teens
Washington Recovery Help Line is a statewide 24-hour crisis intervention and referral line for those struggling with issues related to substance abuse, problem gambling and mental health. If you or someone you know is experiencing a mental health, substance use or problem gambling crisis please call (866) 789-1511 or click here
National Suicide Prevention Lifeline (24/7): 1-800-273-TALK or text 741741
WA Teen Link - Phone & Chat: (866) TeenLink, 866TeenLink.org Trained teens respond 7 days/week, 6-9:30 PM
Forefront Cares : Support for family members or loved who have lost someone to suicide.
WA Warm Line: (877) 500-WARM
Peer support for people living with emotional and mental health challenges. (Wed.-Sun. 5-9 PM)
WA Perinatal Support Line: (888) 404-7763
Mental health support, information & referrals for pregnant women
Behavioral Health Support Groups
Gamblers Anonymous: (855) 222-5542
AL-Anon & ALA-Teen: (800) 726-8094
Support for family members who have loved ones experiencing alcohol use problems.
For other support groups and 12 step support groups (such as Alcoholics Anonymous) Google "12 step meetings and/or support groups near me".
Advocacy Organizations
National Alliance on Mental Illness
Substance Abuse and Mental Health National Health Line : (800) 662-HELP (4357)
Educational Resources
Stopoverdose.org : crisis and treatment resources including medication assisted treatment for opioid addiction
Member Handbook
It tells you what you need to know about your Molina Healthcare Apple Health (Medicaid) Health Plan. Read here.