Molina Healthcare of Ohio Distributes Essentials to More Than 700 Families Impacted by East Palestine Train Derailment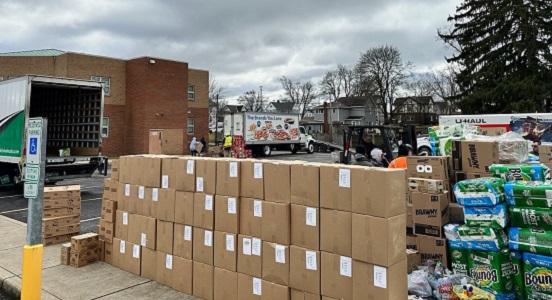 03/04/2023
EAST PALESTINE, Ohio, Mar. 4, 2023 – Molina Healthcare of Ohio ("Molina") partnered with The Brightside Project and local community-based organizations and businesses for a drive-thru distribution event to assist those affected by the East Palestine train derailment. Organizers say more than 700 families were helped.

Water, bread, milk, filters, masks, nasal cleansing kits, pillows and paper products are just some of the items handed out. Molina employee volunteers were on hand with water bottles, toothbrushes and other essentials. Molina will also provide financial support for The Brightside Project's ongoing recovery efforts.

This event was for residents of East Palestine, Negley, Darlington, Unity and New Waterford.

Supporting entities included Matthew 25 Ministries, Kaleel Bros., Quality Water Systems, Vogmask, Movin and Groovin Productions, Nasoclenz, Filterbuy, Pennex, Fresh Mark, Shirley J. Smith Attorney at Law, and Fluent & Ricciardi CPA.