Are you Prepared for a Disaster?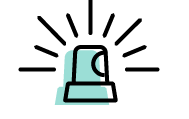 Senior Whole Health wants to ensure you are prepared for public health threats that can affect your area. These could be natural disasters, disease outbreaks, accidents involving hazardous substances and terrorist attacks. Public health threats can affect air quality, cause shortages of safe water and food, and cut off electricity, gas, telephone and other services. Disasters are hard to predict and usually are out of your control. But you can take steps to help keep yourself and your family safe.
Assemble an emergency preparedness kit for each member of your house including pets. Kits should include: food, water, extra cash, first aid supplies, a flashlight, a radio, a multi-purpose tool, medications and medical items and prescriptions, copies of personal documents, ID cards, cell phone with chargers, map of the area, an emergency blanket, emergency numbers, sanitation supplies such as disinfecting bleach and other essential items. A change of clothes and weather appropriate clothing could be included. Consider the special needs of family members and supplement kits with items that fit your needs (such as baby supplies or pet food). Be sure to include your Senior Whole Health Plan ID cards. You can find additional information at www.ready.gov/kit.
Identify ahead of time where to go if you are told to evacuate. Choose several places, such as a friend's home in another town, a motel or a shelter and have their phone numbers on hand. You may need to take unfamiliar routes if major roads are closed or clogged so be sure to have a map. You can find open shelters near you by texting SHELTER and your zip code to 4FEMA (43362). Example: Shelter 01234. (Standard text message rates apply.)
Develop a plan for family communication in an emergency and agree on evacuation routes so everyone knows what to do and where to go. You can find additional information at www.ready.gov/make-a-plan.
Listen to NOAA (www.noaa.gov) Weather Radio or local radio or TV stations for evacuation instructions. If advised to evacuate, do so immediately.
Download smart phone apps that may help you in an emergency. There are several apps from the American Red Cross that are free. You can find additional information at www.redcross.org/prepare/mobile-apps . The Federal Emergency Management Agency (FEMA) also has an app that provides alerts in real time as well as disaster safety tips. For more information, visit http://www.fema.gov/mobile-app.
In case of a disaster, you can register on the American Red Cross Safe and Well website, www.redcross.org/SafeandWell, to let family and friends know about your welfare. If you do not have internet access you can call 1-866-GET-INFO.
Good to know:
Please update your address and phone contact information with Senior Whole Health regularly so we can reach you in case of an emergency. Members can do this by calling Senior Whole Health Member Services. Visit Contact Us to find the member services phone number for your state.