Provider Manual - Dual Options (Medicare-Medicaid Plan)
Welcome to Molina Healthcare. We are glad you are part of our network!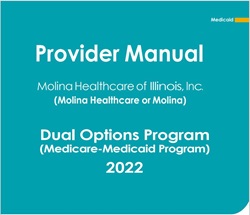 The Molina Healthcare Medicare-Medicaid Plan (MMP/Duals) provider manual will provide you with information about Molina Healthcare and will describe how we will work together as you care for your patients' health care needs.