COVID-19 Testing, Treatment, and Prevention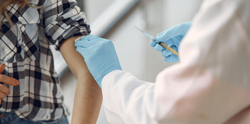 Medically-needed screening, testing, and treatment for Coronavirus are at no cost to members.
If you tested positive for COVID-19 and are age 12 or older, treatment may help you recover faster and avoid serious illness. The elderly and persons with chronic conditions can benefit from COVID-19 treatment.
Call your Primary Care Provider or go to the nearest Urgent Care Center. For help, please call:
24-hour Nurse Advice Line: 1-888-275-8750, TTY/TDD:711. Open 7 days a week.
Member Services: 1-888-665-4621, Monday – Friday, 7 am – 7 pm.
What are the symptoms of COVID-19?
Symptoms may vary from person to person. While most cases may be mild, symptoms may be more severe in the elderly and people with chronic conditions.
Symptoms may include:
| | |
| --- | --- |
| | New loss of taste or smell |
| | |
| Shortness of breath or difficulty breathing | |
| | |
| | |
| | |
Click here for more information from the CDC about Symptoms of COVID-19
Follow CDC's tips for staying safe if you test positive. Click here.
Where can I get tested for COVID-19?
Find a testing location here. Order free at home COVID tests here.
When and where can I get the vaccine?
Molina Healthcare encourages everyone 6 months and older to get the vaccine. Below is a list of sites offering vaccination in your county of residence or visit the California My Turn website.

Stay informed about COVID-19:
Latest from the CDC
COVID-19 Federal Website