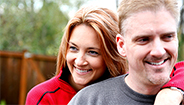 Molina Healthcare's Medi-Cal plan provides a variety of medical services for children and adults with limited income and resources.
Learn more
Welcome, new members!
Welcome to the Molina Healthcare Family! We know how important good health
is to you and your family. We will help you and your eligible family with your health
care needs. We want to help you make the most of your health plan. Click here
to get started.

Molina Healthcare of California is contracted with Health Net Community Solutions, Inc. in Los Angeles County to help you get the care you need.