Molina Healthcare of Mississippi Celebrates National Women's Health Week in Alcorn and Prentiss Counties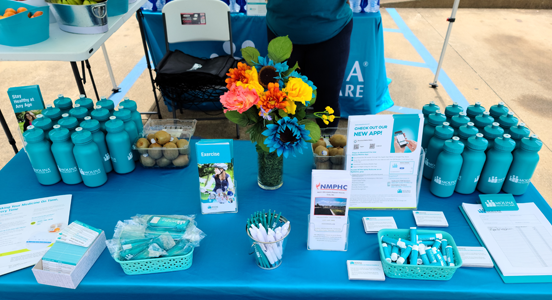 05/14/2021
CORINTH, Miss., May 14, 2021 — In celebration of National Women's Health Week, Molina Healthcare of Mississippi ("Molina") collaborated with North Mississippi Primary Health Care, Inc. to host two Wellness Days in Corinth and Booneville. Molina provided women from the surrounding community with health education materials on exercise, blood sugar and blood pressure, hydration, and other women's health topics.
"We greatly enjoyed partnering with Molina," said Jade Hatcher, marketing coordinator at North Mississippi Primary Health Care. "They provided vital healthcare information to our patients and community, and they were a joy to work with."
Attendees also received fresh fruit, water, and reusable water bottles. Staff from North Mississippi Primary Health Care shared information about the services they offer at their clinic.
"Molina is dedicated to joining forces with our provider and community partners to improve people's comprehensive health and well-being," said Laurie Williams, director of member engagement and growth at Molina Healthcare of Mississippi. "We are thankful for the opportunity to serve families in Mississippi and to emphasize the importance of women's health beyond this week's observance."
About Molina Healthcare of Mississippi
Molina Healthcare of Mississippi has been providing government-funded, quality health care since 2018. The Company serves members through Medicaid (Mississippi Coordinated Access Network/MississippiCAN and Children's Health Insurance Plan/CHIP) and Marketplace. Through its locally operated health plans, Molina Healthcare, Inc., a FORTUNE 500 company, served approximately 4.6 million members as of March 31, 2021.