The Molina Healthcare Charitable Foundation Donates $4,000 to South Brevard Sharing Center Food Pantry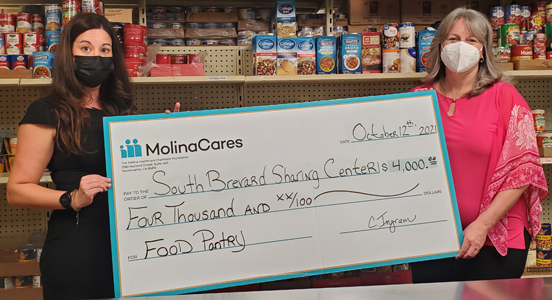 10/12/2021
Melbourne, Florida, Oct. 12, 2021 – The Molina Healthcare Charitable Foundation, in collaboration with Molina Healthcare of Florida, has donated $4,000 to the South Brevard Sharing Center food pantry.
"At Molina, we're committed to doing all we can to reduce barriers to good health, such as food insecurity," said Mike Jones, plan president of Molina Healthcare of Florida. "We're grateful for the opportunity to partner with South Brevard Sharing Center to help provide food to those in our community who need it most."
The donation from the Molina Healthcare Charitable Foundation will help replenish the pantry with enough food to feed 80 people for one week.
"With so many relying on us, we depend on partners like Molina to help replenish our supplies and ensure we can meet the needs of our clients," said Pamela Gunthorpe, executive director of South Brevard Sharing Center. "We're so grateful for this generous donation."
About The Molina Healthcare Charitable Foundation
The Molina Healthcare Charitable Foundation is a 501(c)(3) established in 2020 by Molina Healthcare, Inc. The Molina Healthcare Charitable Foundation was created to improve the health and well-being of disadvantaged populations by funding meaningful, measurable, and innovative programs and solutions that improve health, life, and living in local communities.
About Molina Healthcare of Florida
Molina Healthcare of Florida has been providing government-funded, quality health care since 2008. The Company serves members through Medicaid, Medicare and Health Insurance Exchange programs throughout Florida. Through its locally operated health plans, Molina Healthcare, Inc., a FORTUNE 500 company, served approximately 4.7 million members as of June 30, 2021. For more information about Molina Healthcare of Florida, visit MolinaHealthcare.com.
About South Brevard Sharing Center
South Brevard Sharing Center has been serving families in need in South Brevard since 1971. In addition to providing food, the Center assists with clothing, household items and financial vouchers for prescriptions, utilities, rent and other miscellaneous items through case-managed services. They also offer a thrift store to clients. For more information, call 321-727-8581 or visit www.mysbsc.org.