The Molina Healthcare Charitable Foundation to Donate $30,000 to Support Mobile Food Pantry in Florida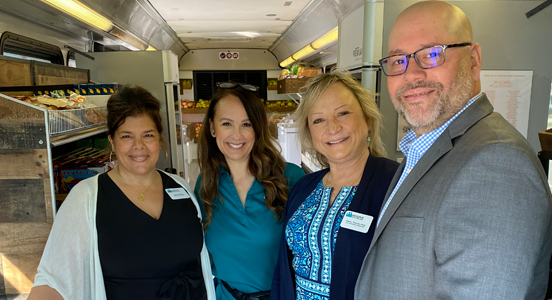 02/23/2022
St. Petersburg, Fla. Feb. 23, 2022 – The Molina Healthcare Charitable Foundation, in collaboration with Molina Healthcare of Florida ("Molina"), will present a check for $30,000 to Reach St. Pete for its "Pop Up Pantry" which will service food deserts in Pinellas County. The donation equips the organization's repurposed bus with commercial refrigerators, freezers and stocking shelves, as well as a branded graphic wrap for the exterior.
After the check presentation and ribbon-cutting ceremony, the "Pop Up Pantry" will make its first stops, supplying community members with food and clothing. The bus will make six stops every second and fourth Thursday of each month.
"Time, distance and transportation are all barriers to accessing nutritious food, particularly in areas known as food deserts," said Mike Jones, plan president of Molina Healthcare of Florida. "We are proud to support this effort because it will directly help connect more Floridians to healthier outcomes."
"Molina has been an active partner in making the 'Pop Up Pantry' come to life," said Reach St. Pete President Alexia Morrison. "That is truly an innovative game changer that Molina has made possible. We can't wait to see the thousands of lives impacted by this partnership."
About the Molina Healthcare Charitable Foundation
The Molina Healthcare Charitable Foundation is a 501(c)(3) established in 2020 by Molina Healthcare, Inc. The Molina Healthcare Charitable Foundation was created to improve the health and well-being of disadvantaged populations by funding meaningful, measurable, and innovative programs and solutions that improve health, life, and living in local communities.
About Molina Healthcare of Florida
Molina Healthcare of Florida has been providing government-funded, quality health care since 2008. The Company serves members through Medicaid, Medicare and Health Insurance Exchange programs throughout Florida. Through its locally operated health plans, Molina Healthcare, Inc., a FORTUNE 500 company, served approximately 5.2 million members as of December 31, 2021. For more information about Molina Healthcare of Florida, visit MolinaHealthcare.com.
About Reach St. Pete
Reach St. Pete is a nonprofit that works to prevent and alleviate homelessness, low-income, and at-risk situations in Pinellas County. Its services provide food, clothing, hygiene items, billing assistance, and housing assistance for those in need. Its goal is to bridge the gap between people and resources aiming to make sure everyone has access to resources that could prevent them from becoming homeless or alleviate them amidst their homelessness, low-income, or at-risk situations. Its efforts are made sustainable through our valued community partnerships, grants, private donors, and extraordinary community involvement.