The Molina Healthcare Charitable Foundation Donates Over $40,000 to Seattle Children's to Expand Access to Evidence-Based Behavioral Health Programs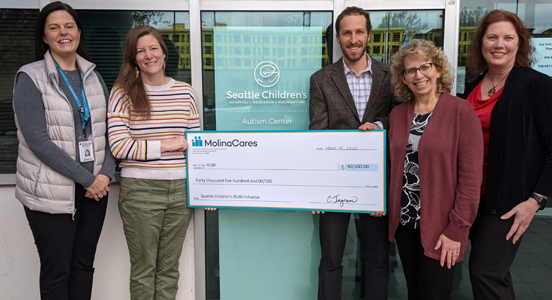 03/28/2022
Seattle, Wash. March 28, 2022 – The Molina Healthcare Charitable Foundation, in collaboration with Molina Healthcare of Washington ("Molina"), donated $40,500 to Seattle Children's RUBI (Research Units in Behavioral Intervention) program to expand access to care for children with Autism Spectrum Disorder (ASD) and help positively impact behavior.
The grant is part of The MolinaCares Behavioral Health Initiative to increase access to behavioral health care across the state. The donation will expand access to evidence-based training and interventions to help improve daily living skills for children and youth with ASD.
It is estimated that between 23,000 and 48,000 children in Washington state have some form of autism. The grant will extend training to primary care behavioral health professionals. As a result, training will be accessible to parents and caregivers served by these practices.
"Making care accessible to families in need is a top priority for Molina," said Dr. Sasha Waring, senior medical director for behavioral health at Molina Healthcare of Washington. "We're proud to partner with Seattle Children's RUBI program to help fund integrated care delivery for those affected by Autism Spectrum Disorder."
About The Molina Healthcare Charitable Foundation
The Molina Healthcare Charitable Foundation is a 501(c)(3) established in 2020 by Molina Healthcare, Inc. The Molina Healthcare Charitable Foundation was created to improve the health and well-being of disadvantaged populations by funding meaningful, measurable, and innovative programs and solutions that improve health, life, and living in local communities.
About Molina Healthcare of Washington
Molina Healthcare of Washington has been providing government-funded health care for over 20 years. The Company serves members through Medicaid, Medicare and the Health Benefit Exchange programs throughout Washington. Additionally, Molina Healthcare of Washington operates a primary care clinic in Everett (MyHealth Everett) and a mobile health unit (MyHealth Mobile) in the Spokane area. Through its locally operated health plans, Molina Healthcare, Inc., a FORTUNE 500 company, served approximately 5.2 million members as of December 31, 2021.