The Molina Healthcare Charitable Foundation to Present $10,000 Donation to the American Red Cross' Sickle Cell Initiative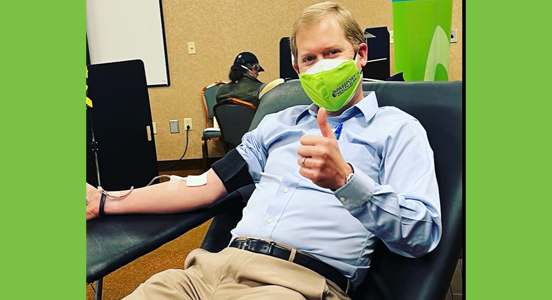 02/17/2022
LOUISVILLE, Ky. Feb.16, 2022 – The Molina Healthcare Charitable Foundation, in collaboration with Passport Health Plan by Molina Healthcare ("Passport"), will make a $10,000 check presentation to the Louisville Area Chapter of the American Red Cross for the Sickle Cell Initiative. The funding will help increase blood donation opportunities in areas serving vulnerable populations. More than 100,000 Americans suffer from sickle cell disease, many of whom are Black.
The Sickle Cell Initiative seeks to triple the number of Black blood donors by the end of December 2025. Blood transfusions increase the number of normal red blood cells, helping to deliver oxygen throughout the body and unblock blood vessels. Because multiple transfusions may be needed each year for an individual, a blood type match is essential and is typically found in donors of the same race or similar ethnicity.
"We are proud to partner with the American Red Cross in this life-saving initiative," said Ryan Sadler, plan president of Passport Health Plan by Molina Healthcare. "This is a tremendous step in the march towards greater equity in health outcomes."
"I want to thank Passport for their generous support of the American Red Cross Sickle Cell Initiative," said Cyndi Dahl, regional donor services director for the American Red Cross. "Their support makes a tremendous impact in the lives of sickle cell patients here in Kentucky."
About the Molina Healthcare Charitable Foundation
The Molina Healthcare Charitable Foundation is a 501(c)(3) established in 2020 by Molina Healthcare, Inc. The Molina Healthcare Charitable Foundation was created to improve the health and well-being of disadvantaged populations by funding meaningful, measurable, and innovative programs and solutions that improve health, life, and living in local communities.
About Passport Health Plan by Molina Healthcare
Molina Healthcare of Kentucky, Inc., dba Passport Health Plan by Molina Healthcare, provides government-funded, quality health care to low-income individuals, and works closely with local providers and community partners to improve health outcomes for members and the communities it serves. Passport Health Plan by Molina Healthcare is a wholly-owned subsidiary of Molina Healthcare, Inc., a FORTUNE 500 company that provides managed health care services under the Medicaid and Medicare programs and through state insurance marketplaces. Through its locally operated health plans, Molina Healthcare served approximately 5.2 million members as of December 31, 2021.
About the Red Cross
The Red Cross responds to more than 60,000 disasters every year. Large disasters like hurricanes, floods and wildfires are increasing in frequency and intensity. Every two seconds, someone in the U.S. needs blood. The Red Cross supplies about 40% of the nation's blood, and we depend on the generosity of donors to help save lives. The Red Cross is proud that an average of 90 cents of every dollar spent is invested in providing care and comfort for people in need. Volunteers are the lifeblood of the Red Cross. Ninety percent of our workforce is volunteers.