The MolinaCares Accord Presented with the 2022 Spirit of Service Award by Mississippi Food Network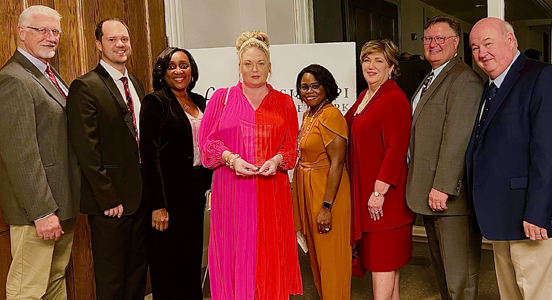 12/16/2022
JACKSON, Miss., Dec. 16, 2022 - The MolinaCares Accord ("MolinaCares") was recently named the 2022 Spirit of Service Award winner by the Mississippi Food Network's Board of Directors in recognition of efforts to combat food insecurity across the state.
"This award was created to recognize organizations or individuals that go above and beyond to serve alongside the Mississippi Food Network," said Catherine Montgomery, community engagement and programs manager of the Mississippi Food Network. "These organizations have not only provided funding, but have been invested in our organization through volunteer events and various acts of service."
Over the past year, MolinaCares, in collaboration with Molina Healthcare of Mississippi ("Molina"), has sponsored mobile pantries in Washington, Holmes, Grenada and Leflore Counties.
"We share the Mississippi Food Network's commitment to increasing access to nutritious foods in low resource areas of the state," said Laurie Williams, AVP of member growth and community engagement, Molina Healthcare of Mississippi. "We are proud to support the mobile pantry program."
Over the past year, MolinaCares' grants have provided 77,549 meals to Mississippians in need. In addition, Molina sponsored a backpack program in Hinds, Holmes, Lowndes, Oktibbeha, Rankin, Sunflower and Washington Counties. Through that support, 313 students received a backpack meal kit during the school year.
The Mississippi Food Network began recognizing Spirit of Service Award winners in 2011. Some of the past winners include the Junior League of Jackson, Clear Channel Communications, St. Anthony School and WAPT-TV.
About The MolinaCares Accord
Established by Molina Healthcare, Inc., The MolinaCares Accord oversees a community investment platform created to improve the health and well-being of disadvantaged populations by funding meaningful, measurable, and innovative programs and solutions that improve health, life, and living in local communities. The MolinaCares Accord funds such measures through The Molina Healthcare Charitable Foundation Inc., a 501(c)(3) established in 2020 by Molina Healthcare, Inc.
About Molina Healthcare of Mississippi
Molina Healthcare of Mississippi has been providing government-funded, quality health care since 2018. The Company serves members through Medicaid (Mississippi Coordinated Access Network/MississippiCAN and Children's Health Insurance Plan/CHIP) and Marketplace. Through its locally operated health plans, Molina Healthcare, Inc., a FORTUNE 500 company, served approximately 5.2 million members as of September 30, 2022.