Senior Whole Health by Molina Healthcare to Pay for Daily Breakfast for Residents of Public Housing Complex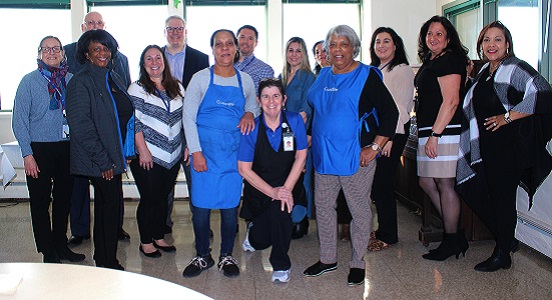 03/27/2023
NEW BEDFORD, Mass., March. 22, 2023 – Residents of Tripp Towers can now enjoy a free, nutritious breakfast funded by Senior Whole Health by Molina Healthcare ("Molina"). The service will be available three days a week and will comprise of fruits, whole grains, and healthy proteins. Breakfast is available for the more than 200 disabled and/or low-income individuals living in the public housing high-rise.
"We are pleased to offer Tripp Towers residents, many of whom are our plan members, a healthy start to the day," said Bill Graham, plan president for Senior Whole Health by Molina Healthcare. "Three nutritious meals per day are essential to positive health outcomes and we are proud to help meet that daily need."
Community partner Coastline Elderly Services provides care options to seniors in the towers and funds food services for residents. The nonprofit organization absorbed several years of rising food costs from vendors. This year, they were facing an additional 10% increase in costs on top of significant increases in previous years.
"We are thankful for Molina's support of our disabled and low-income seniors," said Philip Beard of Coastline Elderly Services. "Breakfast not only provides key nutrients to residents, but it also creates social opportunities that are important to the well-being of our aging population."
"I gratefully appreciate the breakfast," said Ann Parkinson. "It's getting people out of their apartments that wouldn't normally be there out of their apartments, like me."
According to the latest study by Feeding America, about 5.3% of seniors, age 60 and older, (approximately 65,000) are considered food insecure in Massachusetts.
About Senior Whole Health by Molina Healthcare
Molina Healthcare, Inc., a FORTUNE 500 company, provides managed healthcare services under the Medicaid and Medicare programs and through the state insurance marketplaces.
The Company serves members through Medicare and Medicare-Medicaid (Duals) in eight Massachusetts counties. Molina Healthcare served approximately 5.3 million members as of December 31, 2022, located across 19 states. For more information about Molina Healthcare, please visit molinahealthcare.com.