Molina Healthcare of Illinois Partners with Minority-Owned Clark Resources to Bring Jobs to Oak Brook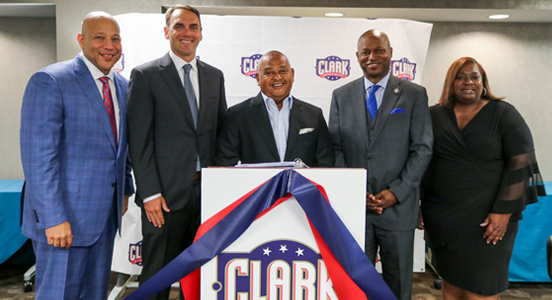 07/07/2022
CHICAGO, July 7, 2022 – Molina Healthcare of Illinois ("Molina") has partnered with Clark Resources, a 100% minority-owned business enterprise, to open a new Clark Resources call center in Oak Brook that will create jobs for local residents. The center is located at 1520 Kensington Rd., Oak Brook, IL 60523.
"Molina is excited to welcome Clark Resources to Oak Brook and is dedicated to expanding opportunities for minority-owned businesses in Illinois," said Matt Wolf, plan president of Molina Healthcare of Illinois. "I'm proud to share that Molina's CEO signed a CEO Action for a Diversity and Inclusion pledge, a commitment to advance diversity and inclusion in the workplace. It's great seeing the commitments come to fruition in this area."
The new Clark Resources call center will initially employ approximately 40 associates, with plans to grow to a capacity of over 150. It is estimated that 80-90% of the jobs will come from minority communities.
"At Clark Resources, we believe in success through diversity," said Todd Gilcrist, president and CEO at Clark Resources. "Exceptional performance is driven by exceptional people, and we reach goals by having all people and ideas working together in joint motion. We are excited for the opportunity to tap into the resources available here in the Chicago area."
"As the first Black person to become Speaker of the Illinois House of Representatives, one of my most important priorities as a leader is diversity, equity, and inclusion," said Rep. Emanuel "Chris" Welch, who joined the ribbon-cutting celebration. "I'm grateful to see this new call center in Oak Brook focus on expanding opportunities for minority-owned businesses and providing job opportunities for diverse candidates. We know the best way to help our communities thrive and flourish is to continue dismantling structural inequities together."
About Molina Healthcare of Illinois
Molina Healthcare of Illinois has been providing government-funded, quality health care since 2013. The Company serves members through Medicaid and Medicare-Medicaid programs throughout Illinois. Through its locally operated health plans, Molina Healthcare, Inc., a FORTUNE 500 company, served approximately 5.1 million members as of March 31, 2022.