Molina Honors Passion and Volunteerism of Local Heroes at Its 3rd Annual Community Champions Awards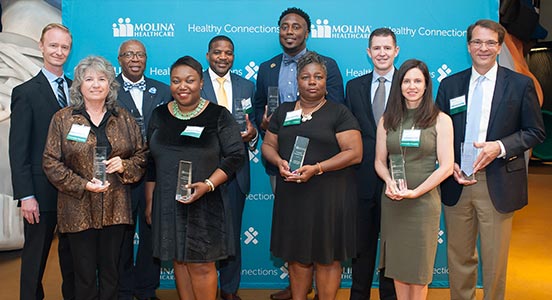 04/30/2017
To celebrate the importance of community service during National Volunteer Month, Molina Healthcare of South Carolina recently honored local heroes at its third annual Community Champions Awards ceremony in Columbia. The event included a dinner, entertainment and an award presentation, where each honoree received a trophy and $1,000 grant to donate to a nonprofit of his or her choice.
This year's Community Champions and their grant recipients are:
Raymond Nelson and Kenneth Joyner – Boys With a Purpose
Dr. March E. Seabrook – Center for Colon Cancer Research at USC
Kathy Brown – Community Resources Depot
Ronald Bessant – Chesterfield Missionary Baptist Church and Mt. Calvary Missionary Baptist Church
Lydia Cotton – Art Pot Multicultural Center
Marjorie Boafo Appiah – The Spartanburg County Foundation
Glenn and Dr. Cara O'Neil – Cure Sanfilippo Foundation
Established in the memory of Molina Healthcare's founder, Dr. C. David Molina, the Community Champions program recognizes those who go above and beyond to help those in need and who work tirelessly to make the world a better place to live in.