Molina Healthcare Now Offering Telemedicine Services in County Clinics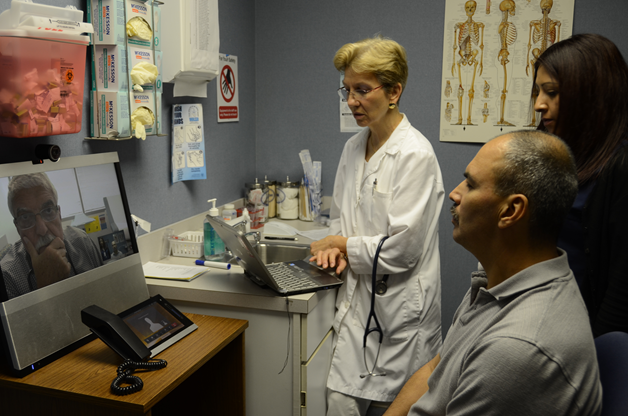 09/09/2013
Molina Healthcare, which operates three Fairfax County health centers under Community Health Care Network, recently launched a new telemedicine program. This technologically-advanced capability allows patients to now "meet" with specialists easily over a TV screen.
"The patients are really intrigued by the new technology and use it without hesitation," said Dalila Birem, MD, associate medical director of Community Health Care Network and Molina Healthcare. "They love that they're able to see the specialists without having to worry about traveling for hours."
Telemedicine is the use of video, e-mail, or another telecommunications system to transmit medical information in a consultation between a doctor and patient. At the Community Health Care Network clinics, the telemedicine visit consists of a doctor patient consultation through two flat screen televisions with video cameras and microphones attached to both.
"What makes us unique is the fact that we have such a large patient base with limited resources, yet we are able to implement technology and programs that facilitate access to medical care," said Dr. Birem. "Our most high-demand specialist for the clinics is our nephrologist, but our patients had difficulty finding a way to go see him. Now that has all changed."
The telemedicine program is designed to help patients see the specialty doctors they would not normally be able to access otherwise. Since all patients seen at the clinics are uninsured and-low income, the availability of telemedicine has helped reduce medical and travel costs. Eligible candidates for the program are patients who need to see a specialist or those who need refills on their medications and cannot wait to travel and see the specialist. The program, which launched in 2013, has tripled patients' accessibility to specialists and has allowed patients to "see" these specialists from the familiar setting of their local clinic with the assistance of their usual clinic staff and physicians.
For the future, the program will strive to use telemedicine for group sessions and classes. Currently, diabetes classes are being taught via telemedicine at the clinics, but the future goal is to also add nutrition classes and conduct therapy groups with mental health therapists.​