Molina Sponsors FBHA Annual Conference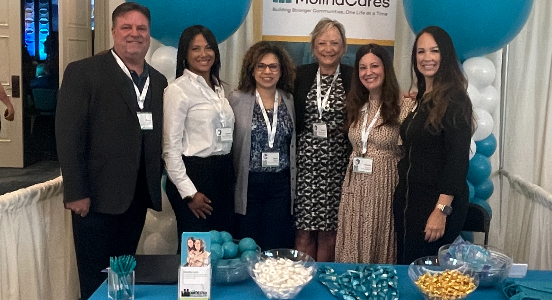 08/23/2023
Orlando, Fla., August 23, 2023 -
Molina Healthcare of Florida was a proud sponsor of the Florida Behavioral Health Association (FBHA)'s annual conference, which attracted more than 1,500 attendees and 230 exhibitors over three days in Orlando. The theme of this year's event was "Elevate" and FBHA President and CEO Melanie Brown-Woofter opened each general session with a positive message to elevate attendees' understanding and approach to behavioral health.
Representatives from Molina's community engagement and provider engagement teams attended the event and staffed a booth where they distributed information on Molina's specialty plan for Serious Mental Illness (SMI). The event was a great opportunity for Molina connect with providers and community-based organization partners across the state.
Molina has supported FBHA for several years and is dedicated to addressing Floridians' behavioral health needs. Earlier this year, Molina announced a partnership with FBHA member IMPOWER to establish Florida's first 24/7 telehealth helpline for mental health crises and hosted a virtual panel in collaboration with The MolinaCares Accord that featured FBHA's Melanie Brown-Woofter and other community leaders discussing the mental health needs of survivors and first responders after Hurricane Ian.