Molina Healthcare Helps Host a Christmas Store at St. Philip's School and Community Center in Dallas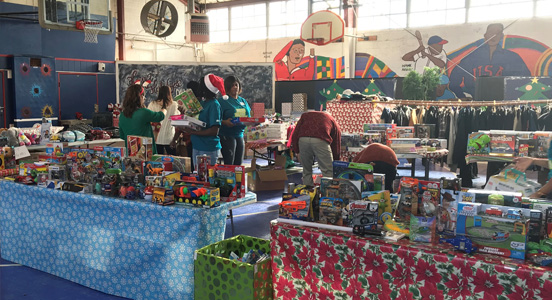 12/14/2019
Molina Healthcare of Texas joined St. Philips in spreading some holiday cheer by donating $3,000 in toys for the unique Christmas store at St. Philip's School and Community Center where approximately 200 preregistered families selected presents for their children. Attendees also took home clothes, hygiene products and cosmetics in reusable tote bags. Molina employee volunteers and volunteers from St. Philip's helped parents pick out gifts and wrap them in preparation for the holidays.
"Too many kids in Dallas go without their wants and needs being met," said Sheila Shelton, director of community engagement, Molina Healthcare of Texas. "We were so pleased to support the St. Philip's Christmas Store so that attending parents were able to get their children a gift that they may otherwise not have the resources to purchase. Our goal was to bring a little extra joy and some relief to local families who both needed it and deserved it."
More than one in five Dallas children lives in poverty, while one in four Dallas families have a parent who was born in another country, according to statistics in the "State of Texas Children" report from the Center for Public Policy Priorities. Poverty is defined as a family of four earning $25,000 or less per year.
​