Molina Healthcare of Michigan Donates Over $10,000 to Focus: HOPE in Support of Community Programs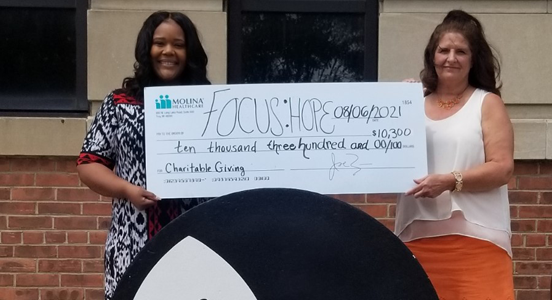 08/24/2021
DETROIT, Aug. 24, 2021 — Molina Healthcare of Michigan donated $10,300 to Focus: HOPE in support of its multi-faceted human services programs.
"We're proud to support an organization that creates meaningful change in people's lives," said Heidi McGlinnen, associate vice president of community engagement at Molina Healthcare of Michigan. "Like Focus: HOPE, Molina is committed to empowering individuals and families at every stage of life."
Funds will go towards various community support programs, including the doula program and early childhood learning center serving mothers and mothers-to-be in the Detroit area.
"We are truly grateful for Molina's support," said Keri Gaither, chief development officer of Focus: HOPE. "This gift will be instrumental in furthering our mission of intelligent and practical action to overcome racism, poverty, and injustice."
About Molina Healthcare of Michigan
Molina Healthcare of Michigan has been providing government-funded health care since 1997. The Company serves members through Medicaid, Medicare, Medicare-Medicaid (Duals), and Health Insurance Exchange programs throughout Michigan. Through its locally operated health plans, Molina Healthcare, Inc., a FORTUNE 500 company, served approximately 4.7 million members as of June 30, 2021.