The MolinaCares Accord Partners with Downtown Streets Team to Support Unhoused Individuals and Community Clean-up Projects in Sacramento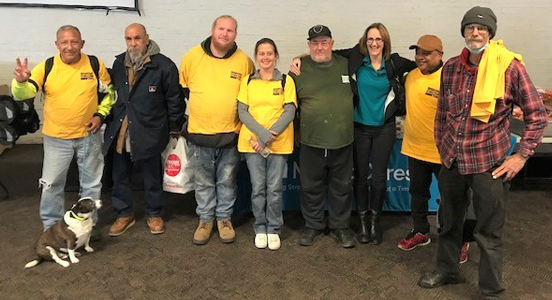 11/17/2022
SACRAMENTO, Calif., Nov. 17, 2022 — The MolinaCares Accord ("MolinaCares"), in collaboration with Molina Healthcare of California ("Molina"), recently donated $80,000 to Downtown Streets Team (DST) and their Committed 2 Care volunteer work experience program in Sacramento. The funds supported 11 individuals participating in the program, which partners with unhoused individuals to beautify the community in exchange for case management, employment services, and a non-cash stipend for basic needs.
Through the program, DST team members take on leadership opportunities, further their education and ready themselves to reenter the workforce and housing. They're also encouraged to invite other unhoused individuals in the area to join the crew through a peer-to-peer outreach and engagement model.
"Molina is dedicated to improving the lives and well-being of individuals in the communities we serve," said Abbie Totten, plan president of Molina Healthcare of California. "We are proud to partner with Downtown Streets Team and the Committed 2 Care program to provide the tools and training needed to help unhoused individuals."
The funds from MolinaCares also supported cleanups in several neighborhoods in Sacramento. The Committed 2 Care team's efforts were celebrated at a special event held November 16 at St. John's Lutheran Church in Sacramento.
"This program is designed to help beautify our communities, while providing meaningful structured daily activity to our team members, which kindles confidence and dignity, and develops employment skills like punctuality, cooperation, and personal responsibility," said Jim Rettew, interim CEO of Downtown Streets Team. "We are grateful for Molina's support in making a difference in our community and in the lives of our unhoused neighbors in Sacramento."
About The MolinaCares Accord
Established by Molina Healthcare, Inc., The MolinaCares Accord oversees a community investment platform created to improve the health and well-being of disadvantaged populations by funding meaningful, measurable, and innovative programs and solutions that improve health, life, and living in local communities. The MolinaCares Accord funds such measures through The Molina Healthcare Charitable Foundation Inc., a 501(c)(3) established in 2020 by Molina Healthcare, Inc.
About Molina Healthcare of California
Molina Healthcare of California has been providing government-funded care for over 40 years. The Company serves members through Medi-Cal, Medicare, Medicare-Medicaid (Duals) and Covered California (Marketplace). Molina's service areas include Sacramento, Los Angeles, San Bernardino, Riverside, San Diego, Orange County, and Imperial counties. Through its locally operated health plans, Molina Healthcare, Inc., a FORTUNE 500 company, served approximately 5.2 million members as of September 30, 2022.
About Downtown Streets Team
Downtown Streets Team (DST) builds Teams that restore dignity, inspire hope, and provide a pathway to recover from homelessness. Team Members are unhoused neighbors or folks at risk of experiencing homelessness. They receive access to case management, system navigation, and employment placement services from trained DST Case Managers and Employment Specialists. Teams engage in community beautification and clean-up projects that help challenge common negative perceptions of homelessness. For more information about Downtown Street Team, visit https://www.streetsteam.org/.