Molina Healthcare of California Recognizes Black History Month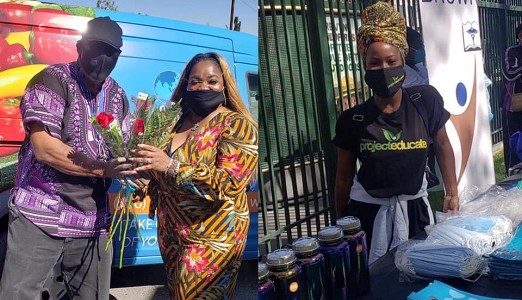 03/03/2021
LONG BEACH, Calif., March 3, 2021 – Throughout February, Molina Healthcare of California ("Molina") partnered with local organizations to celebrate Black History Month. Molina collaborated with Community Health Action Network (CHAN) in San Bernardino County, Project EDUATE in Los Angeles County, and the Black Child Legacy Campaign (BCLC) in Sacramento County, through Sierra Health Foundation.
"Molina is grateful for the opportunity to honor Black History Month and partnered with organizations that share our commitment to serving Black communities," said Abbie Totten, plan president of Molina Healthcare of California. "We recognize that disparities, beyond health care access and delivery, exist across our communities and innovative partnerships are necessary to ensure long term solutions. We are dedicated to eliminating barriers and addressing the fundamental causes of disparities all year round."
Molina partnered with CHAN and local churches to support Victorville residents experiencing food insecurity and contributed red roses to CHAN's "We Celebrate You" drive-thru event. Women of color received the flowers, along with a COVID-19 safety kit and three bags of groceries.
"Families who attended the event felt very blessed and appreciated by the community," said CJ Page, executive director of Community Health Action Network. "It was a true honor to be part of an ongoing event supporting Black History Month and women of color. A big thank you to Molina Healthcare for their continued partnership."
Molina also collaborated with Project EDUCATE, which advocates for people experiencing homelessness on Skid Row in downtown Los Angeles. Molina provided supplies, including reusable bags filled with hygiene items, face masks, and hand sanitizer bottles, to Project EDUCATE's event celebrating Black History Month. Molina also contributed coloring sheets and crayons for unhoused youth.
In Sacramento, Molina joined with the BCLC to deliver face masks and other resources to families that the group serves. BCLC unites city and county agencies, medical providers, faith leaders, and members of the public in a joint effort to address the disproportionate mortality rate of African American children in Sacramento County.
Molina launched The MolinaCares Accord ("MolinaCares") in 2020 to improve the health and well-being of disadvantaged populations by addressing social issues that affect health care delivery today, including racial disparities and social determinants of health.
About Molina Healthcare of California
Molina Healthcare of California has been providing government-funded care for over 40 years. As of December 31, 2020, the company serves approximately 593,000 members through Medi-Cal, Medicare, Medicare-Medicaid (Duals), and Covered California (Marketplace). Molina's service areas include Sacramento, Los Angeles, San Bernardino, Riverside, San Diego, Orange, and Imperial counties.