Disabled Resources Center Awards Molina Healthcare with its Community Service Award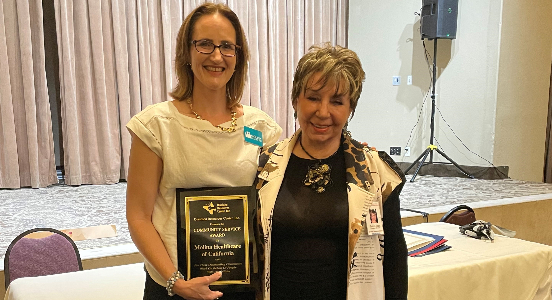 08/01/2023
Molina Healthcare of California ("Molina") was recently awarded the Disabled Resources Center's (DRC) Community Service Award in recognition of work supporting people with disabilities in Long Beach and surrounding areas.

"From the beginning, Molina has been committed to addressing the needs of vulnerable populations," said Abbie Totten, plan president of Molina Healthcare of California. "We're honored to partner with organizations like Disabled Resources Center to increase access to quality care and improve the health and well-being of people across the state."

Building on an extensive partnership with DRC, Molina has supported numerous DRC events and initiatives over the years. More recently, Molina and DRC joined together to create the South Bay Senior and Disability Collaborative. Molina has also supported the organization's annual awards recognition event for multiple years.
Photo caption: Abbie Totten, plan president of Molina Healthcare of California, and Dolores Nason, executive director of Disabled Resources Center