Care Management Program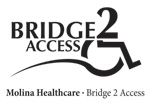 Molina's Care Management Program is a comprehensive integrated Medical/Social Care Management Model designed to focus on promoting the coordination of social support and medical services across the entire continuum of care. Our program is a collaborative process of providing services where a professional team of Registered Nurses, Social Workers and Health Educators work with the member's healthcare providers to assess the individual healthcare needs of the member and the member's family, when appropriate. The ultimate goal is to improve the overall quality of care.
The Molina Care Management team is available Monday- Friday from 8:30am-5:30pm.
Care Management team can be reach at 800-526-8196 ext. 127604.