Stay Informed About Coronavirus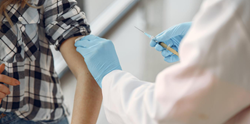 Updated May 13, 2021
Molina Healthcare is watching the Coronavirus (COVID-19) pandemic daily.
For your health and peace of mind, Molina Healthcare is committed to keeping you informed about the COVID-19 vaccine.
About the Vaccine
The COVID-19 vaccine is safe and effective. Millions of Americans have already been vaccinated. The vaccine is crucial in slowing the spread of coronavirus. Even if you get infected, it may prevent you from becoming seriously ill.
For more details, visit https://coronavirus.idaho.gov/ or call your local public health district.
Protect your health now. While you wait your turn for the COVID-19 vaccine, get all recommended immunizations and vaccines including your flu shot. Keep following CDC guidelines: wash your hands often, social distance, cover your mouth and nose with a mask whenever you leave you home and avoid crowds.
Read more about the vaccine on the Molina Healthcare blog.
Lean on Molina
During this unique and challenging time Molina Healthcare continues to prioritize the wellbeing and safety of our members, community partners, providers and staff. We are striving to reduce barriers to health care during the pandemic and respond to the emerging needs in our community.