New Medicaid Dental Benefits for Pregnant Women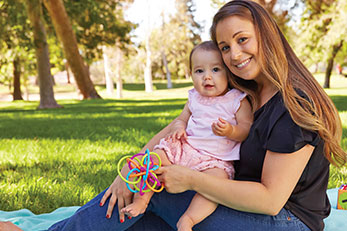 Thank you for choosing Molina Healthcare for your healthcare needs. We would like to make you aware of a new benefit available to you.

Molina Healthcare provides dental services to pregnant women. Pregnant Medicaid members are able to use their Molina Healthcare Medicaid ID card to obtain dental services.

Molina Dental Services under Medicaid are provided to members at no cost. Molina's dental benefit includes cleanings, fillings and other preventive services.
High Level Benefits Grid
Some of the benefits we offer are:
| Description | Limitations |
| --- | --- |
| Diagnostic and Preventative Services | N/A |
| Emergency Dental Care | N/A |
| X-Rays | N/A |
| Oral Surgery Services | N/A |
| Fillings and Other Restorative Services | N/A |
| Topical Fluoride Treatment | Under Age 21 |
| Tooth Extractions | N/A |
Pregnant Medicaid members get dental coverage from the first day of the month when Molina finds out about the pregnancy through the postpartum period. The postpartum period is 12 months following end of pregnancy.
Please visit MyMolina.com if you would like to review your healthcare coverage. To find a Molina Dental Services provider, visit MolinaHealthcare.com, select Medicaid, then Find a Doctor or Pharmacy to view the Molina Dental Services Providers available to you. We are confident you will find an appropriate Molina Dental Services Provider near you.
It is important that pregnant women get proper dental care during their pregnancy for the health and wellbeing of the mother and infant. Molina Healthcare will provide the names of participating dentists in your area who are available to provide dental services. Molina provides unlimited round-trip or one-way trips for covered, medically necessary services each calendar year. Pregnant Medicaid members can use this benefit to visit any Molina Healthcare provider.
If you have questions about this benefit, please contact us. We're here to help. Please call the M.O.M. Program at (888) 898-7969, Monday - Friday, from 8 a.m. to 5 p.m., EST. If you are hearing impaired, please call our TTY line at 711, Monday - Friday, from 8 a.m. to 5 p.m., EST. You may also visit MolinaHealthcare.com.
Moms of Molina (M.O.M.) Program
If you are pregnant, Molina Healthcare has a free program just for you and your baby. It is called the M.O.M. Program. We want you to have a healthy pregnancy and healthy baby.

Molina Healthcare has a special nurse coordinator to work with you and your doctors to make sure you and your baby get the care you need. All Molina Healthcare mothers-to-be, including teens and high risk, will receive information about the importance of prenatal care and free support services.

We can:
Help you find a doctor for you and your new baby
Help you get a ride to your doctor visits
Help you stay healthy
Help you with special needs while you are pregnant
Help you find counseling services and childbirth and parenting classes
Help you find information for getting baby items: food, housing, clothes and give you information about what to expect when you are pregnant
Keep in touch with you and your doctor
It is good to get early and regular prenatal care and to keep all your visits with your doctor, even if this is not your first baby. Please call the M.O.M. nurse at (888) 898-7969, Monday – Friday, 8 a.m. to 5 p.m., EST.
Women, Infant & Children (WIC) Services Program
Women, Infants and Children (WIC) Program offers pregnant women and young children free food and other services. You do not need to ask your PCP to get services from WIC.

Please call Member Services at (888) 898-7969, Monday – Friday, 8 a.m. to 5 p.m., EST to find out where and how to get WIC Services.