Early Pregnancy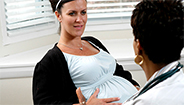 If you know or think you are pregnant, it's very important that you start taking care of yourself and your baby early in your pregnancy. Here's what to do next.
1. Call your OB/GYN* doctor right away to schedule your first prenatal appointment. Try to be seen by your OB/GYN before you are 10 weeks pregnant. If you don't have a doctor, you can find one in our searchable online provider directory. Or, you can call Member Services for help.
2. At your prenatal appointment, come prepared to talk to your doctor about your medical history, any prescriptions you have and your questions. Molina Healthcare network providers should complete and submit the Pregnancy Risk Assessment Form (PRAF) at your first prenatal visit and anytime your needs change. This form assists in maintaining your Medicaid eligibility and can help connect you to needed services and support.
3. Learn more about progesterone and preventing preterm birth with this quick sheet or through the Ohio Perinatal Quality Collaborative's Prematurity Prevention (Progesterone) Project.
4. Once Molina is made aware of your pregnancy, you will be enrolled in Molina Rewards 4 Health. You can get up to $250 in gift card rewards+ for going to prenatal, postpartum and baby well-child visits. Molina offers these rewards to encourage you to take care of your health. Gift cards can be used to buy formula, baby supplies, groceries and more. Learn more.
5. Need extra support during your pregnancy? Call Member Services to ask about our Care Management program. Learn more.
6. Need a ride to your doctor's appointments? You get unlimited rides to prenatal and postpartum visits with your OB/GYN — Plus unlimited rides to medical visits for babies younger than one year old! You also get an extra 30 one-way trips every year at no cost to you! Learn more.
7. Need help getting a crib, car seat, diapers or other baby supplies? Call your Molina Care Manager, if you have one. If you don't, you can call Member Services who can help you connect with our Maternal Child Health team.
8. Download the My Moline mobile app to get access to Molina anytime. Available for iPhone and Android devices. Learn more about the My Molina mobile app.
* OB/GYN: Obstetrician-gynecologist. A doctor who specializes in reproductive health.
+ Eligibility rules apply.