Early Pregnancy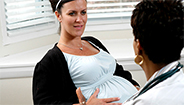 Got a positive pregnancy test, or think you may be pregnant? It's very important that you start taking care of yourself and your baby early in your pregnancy! Here's what to do next.
1. Call your OB/GYN doctor right away to schedule your first prenatal appointment. If you don't have a doctor you can call, you can find one in our searchable online provider directory. Or, you can call Member Services for help.
2. At your prenatal appointment, come prepared to talk to your doctor about your medical history, any prescriptions you have and your questions.
3. Ask your doctor about progesterone. Progesterone is a natural pregnancy hormone that can reduce the risk of a premature birth. Your doctor may prescribe progesterone if you've had a baby more than 3 weeks early or have other risks. Learn more.
4. Call Member Services to enroll in Molina's Pregnancy Rewards program. You can get up to $225 in gift card rewards just for going to your doctor's appointments. Learn more.
5. Need extra support during your pregnancy? Call Member Services to ask about our Care Management program. Learn more.
6. Need a ride to your doctor's appointments? Molina offers 30 rides every year at no cost to you! Learn more.
7. Need help getting a crib, car seat, diapers or other baby supplies? Call your Molina Care Manager, if you have one. If you don't, you can call Member Services who can help you connect with our Maternal Child Health team.
8. Download the Molina HealthinHand smart phone app to get access to Molina anytime. The app offers a Prenatal Care Card that will give you personalized information throughout your pregnancy. Available for iPhone and Android devices.